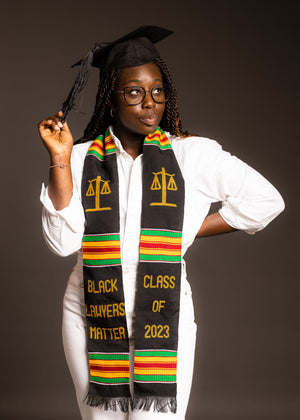 Ashanti Scholar
BLACK LAWYERS MATTER 2023
Sale price Price $23.95 Regular price Unit price / per
In much of the world, Black Professionals are underrepresented, the legal profession is no exception. This specialty stole is a physical manifestation, of the diversity that is desperately needed across industries and sectors. With this stole, we honour those who have come before us, we celebrate those who are graduating now and inspire a new generation, so that they too may strive to enter the professional world. 

Features:
Each stole is carefully handwoven by skilled artisans down to the last stitch. Artisans use a rayon/cotton blend to ensure the stole's thickness and the vibrancy of its colours. Measuring at 4.5 inches x 72 inches long, the stole is the ideal size for graduates.
Native the to the Ashanti Region in Ghana, Kente Cloth has a long tradition of be worn for the most prestigious and royal occasions!
Right Side Details:
Base: Black
Stripes : Red, Yellow, Green
Symbol: Scales of Justice 
Writing: Black Lawyers Matter
Left Side Details:
Base: Black
Stripes : Red, Yellow, Green
Symbol: Scales of Justice
Writing: Class of 2023