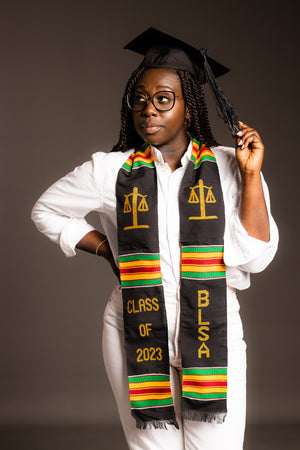 Ashanti Scholar
BLSA 2023
Sale price Price $23.95 Regular price Unit price / per
Student organizations are so important during school. Sometimes they are the only thing that carries us through! If BLSA was at the heart of your experience, order your stole today! 
Features:
Each stole is carefully handwoven by skilled artisans down to the last stitch. Artisans use a rayon/cotton blend to ensure the stole's thickness and the vibrancy of its colours. Measuring at 4.5 inches x 72 inches long, the stole is the ideal size for graduates.
Native the to the Ashanti Region in Ghana, Kente Cloth has a long tradition of be worn for the most prestigious and royal occasions!
Right Side Details:
Base: Black
Stripes : Red, Yellow, Green
Symbol: Scales of Justice
Writing: BLSA
Left Side Details:
Base: Black
Stripes : Red, Yellow, Green
Symbol: Scales of Justice
Writing: Class of 2023