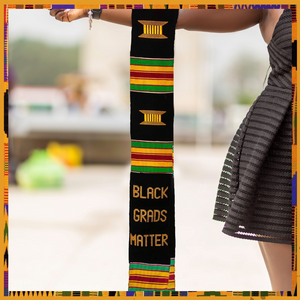 Ashanti Scholar
BLACK GRADS MATTER
Sale price Price $22.95 Regular price $22.95 Unit price / per
The statement is simple, yet powerful. BLACK GRADS MATTER. Celebrate the occasion of any graduation by proudly wearing an authentic kente stole made in Ghana, West Africa.
Features:
Each stole is carefully handwoven by skilled artisans down to the last stitch. Artisans use a rayon/cotton blend to ensure the stole's thickness and the vibrancy of its colours. Measuring at 4.5 inches x 72 inches long, the stole is the ideal size for graduates.
Native the to the Ashanti Region in Ghana, Kente Cloth has a long tradition of be worn for the most prestigious and royal occasions!
Details on both sides:
Base: Black
Stripes : Red, Yellow, Green
Symbol: Golden Stool
Writing:

BLACK GRADS MATTER