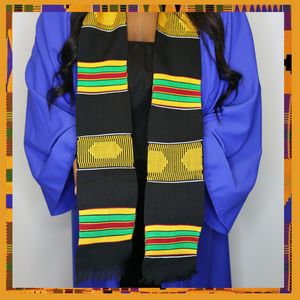 Ashanti Scholar
TRADITIONAL STOLE
Sale price Price $22.95 Regular price Unit price / per
It is said that we are a story telling people. Our traditional kente graduation stole is perfect for all occasions. You can take the plain stole to any local embroidery shop or have use customize it for you. This stole is also great for any graduates who are need of a stole last minute!
Features:
Each stole is carefully handwoven by skilled artisans down to the last stitch. Artisans use a rayon/cotton blend to ensure the stole's thickness and the vibrancy of its colours. Measuring at 4.5 inches x 72 inches long, the stole is the ideal size for graduates.
Native the to the Ashanti Region in Ghana, Kente Cloth has a long tradition of be worn for the most prestigious and royal occasions!
Details on both sides:
Base:

 

Black
Stripes

 

: Red, Yellow, Green
Design: Intricate Golden Design 
Symbol:

 

(empty)
Writing:

 

(empty)